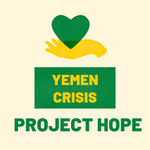 Yemen is the world's most severe and devastating humanitarian crisis.
Yemen is the world's worst humanitarian crisis, with 80% of the country's population requiring some form of assistance to survive. Project HOPE is helping provide the vital support people in Yemen need most. Get the facts about this crisis and learn more about how you can help below.
The crisis in Yemen has put tens of millions of women, children, and men at risk. 
For the month of July, Subtle Lashes will be hosting a fundraiser lead by Josephine Nguyen, one of the ten Signatures, matching all proceeds that use the promotion code "JO" by three-folds with updates and receipts at the beginning of August. This is an ongoing fundraiser for the rest of the month of July. 
GET THE FACTS: WHAT YOU NEED TO KNOW
Where is Yemen?
Yemen is located on the southern end of the Arabian Peninsula, with long coastlines that stretch along the Gulf of Aden and the Red Sea.
The ongoing war has exacerbated Yemen's vulnerabilities; even prior to its current conflict, Yemen has struggled to maintain peace. It is the poorest country in the Middle East and imports about 90% of its food, leaving its people extremely vulnerable to conflict and blockades of its ports.
How has COVID-19 impacted Yemen?
COVID-19 has compounded an already devastating situation in Yemen, with the U.N. now warning that deaths from the coronavirus could exceed all wartime fatalities.
Around 20% of the country's 333 districts have no doctors whatsoever, while the entire nation has just 500 ventilators and 700 intensive care unit beds. Additionally, it's nearly impossible to get an accurate picture of just how far the virus has spread — by the end of May, only a few thousand people had been tested out of a population of 28 million.
Who is being impacted the most by the war in Yemen?
While no one in Yemen has been left untouched by war, the country's women and children have been most affected, especially as malnutrition and disease spread. After five years of conflict, millions of people already struggling to meet their daily needs are now on the brink of starvation.
What is the greatest need?
 With three-fourths of the population requiring assistance, the U.N. has called the needs in Yemen "unprecedented." Malnutrition, cholera, poverty, displacement, child marriage, and chronic unemployment are all widespread.
Even the most basic needs like food and clean water are at emergency levels: Nearly 18 million Yemenis lack access to clean water, sanitation, or hygiene. The World Food Programme has said that its goal is to reach 12 million Yemenis with food assistance every month.
Is there a path to peace?
Several rounds of U.N.-sponsored talks have failed to reach any deal to end the war. Most recently, peace talks in February 2020 between Saudi Arabia and Yemen's rebels led some to believe that momentum could be building for a diplomatic solution to the war.
What is Project HOPE doing to help?
In August 2019, Project HOPE announced it was forming the Humanitarian Alliance for Yemen, alongside three other U.S.-based nonprofits: MedGlobal, Pure Hands and United Mission for Relief and Development. Together, the alliance will engage local Yemeni organizations to focus on the hardest-hit communities where malnutrition and disease are rampant. This subtle blog references all of the items listed on the website on ProjectHope.org 
The crisis in Yemen has put tens of millions of women, children and men at risk. You can help.
Spread the word. Stay up-to-date on this story and Project Hope lifesaving work around the world by following Project Hope on Facebook, Instagram, LinkedIn, and Twitter, and help spread the word by sharing stories that move and inspire you.
Fundraise. Choose a way to inspire your friends and family to join you in saving lives with Project HOPE:
1. Support Josephine by using the promotion code "Jo" during the entire month of July.
2. Start your personal online Fundraiser via Facebook or GoFundMe
3. Live stream on Tiltify
4. Set up a team fundraiser for your colleagues and friends