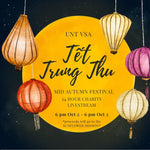 We are proud to be partnering up with @UNTVSA in their 24hr Mid-Autumn Moon Charity Live Stream! Tune in this Friday Oct 2 at 6pm and donate what you can to contribute to the Sunflower Mission, a charity that helps advance education for children in Vietnam. 
Sunflower Mission's background:
The sunflower, resilient and bright, always grows towards the sun. It symbolizes strength, hope, and growth. Sunflower Mission hopes that with the proper educational nourishment, Vietnam and its students will also grow.
We are a 501(c)3 non-profit organization that empowers students in Vietnam by building schools, awarding scholarships, and providing learning opportunities.
In keeping with our core values, Sunflower Mission respects people of all races, ethnicities, and social economic backgrounds. The engraved words "tiên học lể, hậu học văn" at the entrances of our schools remind all to first learn to respect one another before learning the academics. We believe that through education, equality can be achieved and discrimination eradicated through mutual understanding and compassion.
As a company, we are donating two gift baskets that include popular Subtle Lashes products, which you can win by entering the raffle! Every donation of at least $5 is an entry into the raffle. This will be a fun night, so don't pass up on this opportunity win Subtle Lash prizes! 
Another way to help donate is to use the affiliate code when you buy from Subtle Lashes: UNTVSA. By using this code, you receive 15% off your order and the all profits from these sales will be donated! The fundraiser will end on October 31, 2020 at 11:59 PM CST. 
We'll see you all there, and head over to @UNTVSA to learn more!"